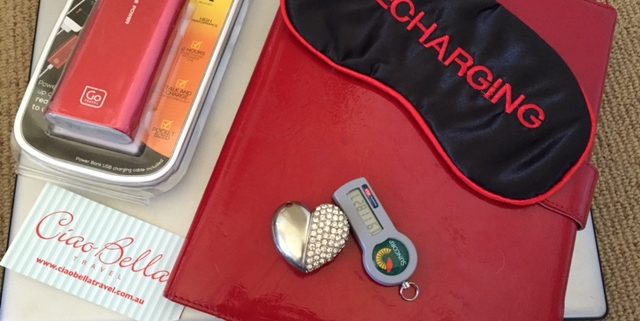 I love travelling and New York is one of my fave destinations. There is so much to see & do that I like to make the most out of every trip. For me, being the digital girl that I am, this starts with making sure I am digitally connected. This means travelling with my lightweight Lenovo tablet, by iphone, my ipad and spare battery charger.  Wifi is so accessable in NYC that it makes being able to upload posts on the go easy as there is usually somewhere close by that has wifi.
We are so used to be connected in our everyday life that we crave it also when we are travelling (well some of us digital peeps do). And given the crappy life of the iphone 6 battery a back up power pack is a must. I got this awesome Go Travel battery Pack from Ciao Bella Travel who specialise in all things travel related. I like it as I can talk and charge simultaneously, it can fully charge my phone in 2 hours and its small which is perfect for travel.

One thing I rely on when travelling is apps. This is why I love digital. There is an app for everything!  A few that I've downloaded for my trip to New York are:
Tripit – so my itinerary is in one place
Today Tix – for cheap broadway show tickets each day (rather than waiting in that long queue at the discount ticket booths)
NYC Pizza – to help me find the best in the city. There is NOTHING like NYC pizza
CabSense – shows you the best street corners for hailing a cab
The Scoop – shows restaurants, bars, cafes, and everything in between and you can more info, see the map where they are located, email them and share on social
City Compass – to help get me moving in the right direction. (and trust me I need that)
I Love NY – shares what is near you to do and see
NYC Way – similar to the Scoop and also includes Subway map
Menu Pages – search for restaurants based on your location and what you want to eat
Central Park – shows you a map and where to go, things to see – everything Central Park
Uber – which I love and use when home in Australia
I'll keep you posted on what I find the best to use when in New York.
https://www.digitalconversations.com.au/wp-content/uploads/2015/09/digital-prep.jpg
480
640
Tanya Williams
https://www.digitalconversations.com.au/wp-content/uploads/2017/04/1710-Digital-Conversations-logo-FINAL.jpg
Tanya Williams
2015-09-06 00:43:33
2017-01-19 10:49:57
Getting Digitally prepped...