If your messaging is more confusing than Xanadu (no real story and just makes no sense), I suggest you start with an Exploration Session.
It will help you find your sweet spot, refine the words you need to attract the clients you actually want to work with (not the ones that want everything for free and don't pay their bills on time), and drill down on your ideal audience and best channels to use.
This is focused on the 4 big C's – giving you clarity and helping you connect, converse, and convert potential clients. We need to find what makes you Simply Irresistible!
This is a great starting point without any long-term commitment. After all, we need to see if we are a good fit before you say "I do."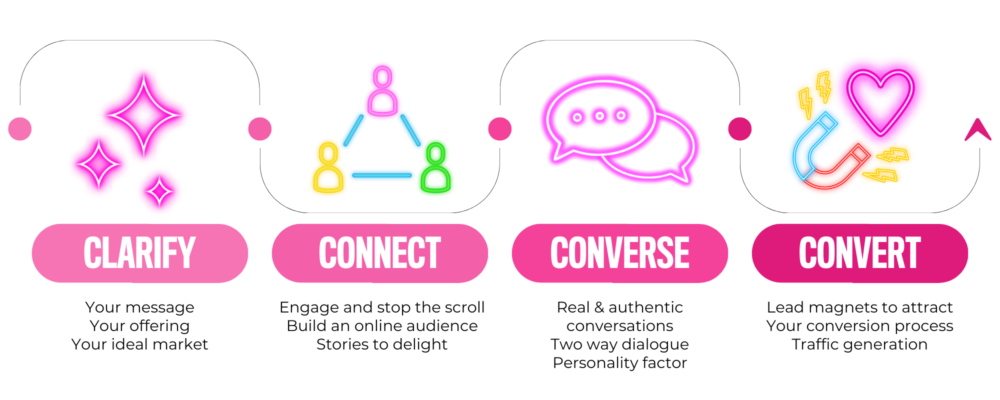 What is it?
In this 2-hour session, we sit down and explore a number of areas in your business:
Your current marketing issues and challenges
Where do you think you might need help (this might differ from what you actually need)
Highlight the gaps in your current marketing
Do an audit of your current marketing and channels
Identify opportunities to improve your website, imagery & messaging
Recommendations and a bit of a plan for you to take away to action
Key Outcomes
Get a clear understanding of what you need to do
A fresh perspective from a marketing specialist with no agenda in trying to 'flog' a particular product on you to buy
Set some priorities for you to action
Next steps if I can help you (and if you are ready for this)
At the end of the session, there are 3 possible outcomes:
Outcome 1
If at the end of our session, you'd like to talk further about working together and we both think it is a good fit, then we can go to the next stage.
Outcome 2
If you have homework that you need to go off and get done from the session, then you need time to do this.
Outcome 3
If you find the session wasn't beneficial (which rarely happens), then we both go on our merry way.