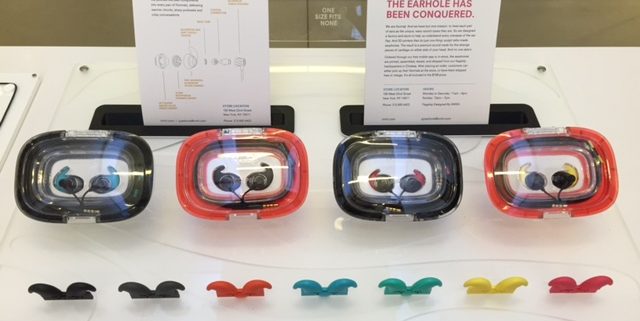 I was so excited to secure an interview with Nikki Kaufman, founder and CEO of Normal. "Normal," the name of a company that creates made-to-order ear buds via 3D printing. Normal's business model makes it easy for custom-headphone-loving shoppers. For $199US, customers can download the Normal app, take photos of each of their ears, then send those photos to corporate headquarters. From there, Normal works its magic via 3D printing, then overnights each pair of specialized earphones. Customers usually receive their product within 48 hours of placing an order.
Founder Nikki Kaufman has big plans for Normal and there are new products on the drawing board. (more will be revealed over the coming months). The opportunities for 3D products are huge and the combined retail & production space in the New York office not only hosts many events but you can watch your Normals being printed in store which is pretty damn cool. A former Quirky employee Nikki saw an opportunity to develop the product when she herself could not find earphones that fit or stay in so a year later she launched Normal to the public.  Feedback from customers to date has been overwhelmingly positive and the simple step by step process makes it easy to order from anywhere in the world, which for a custom product is hard to do normally. But Normal is anything but, and using the app and following some simple instructions you can have custom earphones in hours. The process is actually this easy as I found while ordering a custom pair while in store with Nikki:
Download the Normal App
Take an ear Selfie
Select colours and cable length
They are printed on the 3D printer and you have your order in 48 hours
Surprisingly the focus is not just online but in store to give customers an experience that is quick, easy and best of all, affordable.  From the moment you enter the Chelsea store you get a sense of success and cool. With it's Apple like environment you are surrounded by technology that has a real impact on your experience not just for the sake of using technology. Whilst social media is a big driver of brand visibility the ability to hold very cool 'experience' events in store is equally important for them. With the space being booked for all types of corporate and promotional events, the approach that Normal have is unique but works for the product and brand and most importantly the customer experience.
Nikki's passion for what she does is evident in her business approach and her entrepreneurial 'the sky's the limit' attitude towards the brand.  You get the sense that there is no way this girl won't succeed and I wouldn't be surprised if Normal becomes a household name over the coming years.
Normal is anything but normal. It is a must see (if in New York) or visit online if you're anywhere else in the world. And if you think that's easy, if you're in New York City you can watch them making your order. How cool is that!!  The store is located at: 150 West 22nd St, Chelsea NYC https://nrml.com/
https://www.digitalconversations.com.au/wp-content/uploads/2015/09/normal3-1.jpg
480
640
Tanya Williams
https://www.digitalconversations.com.au/wp-content/uploads/2017/04/1710-Digital-Conversations-logo-FINAL.jpg
Tanya Williams
2015-09-25 00:22:30
2017-01-19 10:48:23
There is no such thing as Normal