'Barbiemania' has swept the world. Love her or hate her, their no doubt the marketing machine behind the new Barbie movie is nothing short of awesome. Everyone, regardless of age wants to be part of it.
From custom Crocs to a special Prada line to gay pride parade floats, Greta Gerwig's 'Barbie' movie has attracted more than 100 promotional partners and generated countless headlines.
The marketing of this movie has everything – online and offline. The value of the publicity the film has generated is immeasurable, from local TV news spots to features in Architectural Digest and The New Yorker. Stories about Barbie have become ubiquitous. Axios reports that almost half a million Barbie pieces have been published in 2023 so far. That says it all, really!
Campaigns include "Barbie in the Real World" blitz, a competition series that featured HGTV talent redesigning a home in various Barbie-inspired rooms from across the decades. There was also a summer baking championship on Food Network, while more than 15 networks across the WBD pantheon featured pink logos and other Barbie on-air graphics.
But wait there is more (and more and more)
There is a real-life Barbie Dreamhouse in Malibu, bookable on Airbnb. (I must say I would loooove to stay there). There's a Barbie Xbox that looks like a little dollhouse. Burger King has a Barbie themed meal with pink sauce. Sales of scrunchies (a Barbie signature) are up 1099%. You name it, there is a Barbie product for it … even a Barbie toothbrush range.
This is what I think they have done brilliantly
Leveraging fans of all ages
Barbie is iconic. I remember my very first Barbie was Golden Dream Barbie (and recently found her again when cleaning out my parent's house). What they have brilliantly done is very strategically segmented their audience as they know this movie will appeal to young and old alike. Their marketing team and partners have done their research and understand their audience and fans deeply and it is paying dividends at the Box Office.
User-Generated Content
User-generated content (UGC) is exactly as it sounds. It allows your audience to generate content (and hence lots of buzz) for you for FREE.  The amount of UGC is near impossible to collate across the globe.
A Barbie selfie generator went somewhat viral a few months back. Google any keywords related to the film right now, and watch the search engine's typically staid colors turn pink, with pink sparkles raining down the screen. 
You can put yourself on a Barbie poster, have your photo taken in the iconic pink Barbie box and there are all sorts of AI generators that have some sort of Barbie theme (more on that below).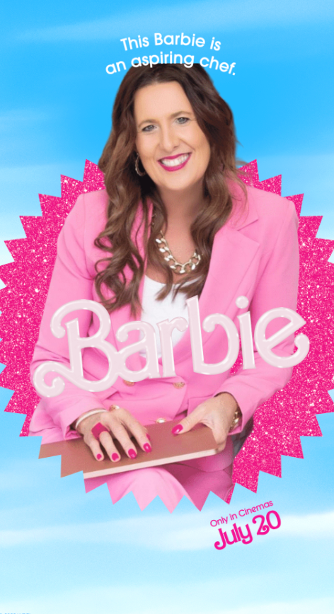 Capitalising on the Nostalgia
I have always loved Barbie and have seen her as a positive role model. The creative Ruth Handler deliberately made Barbie unmarried and childfree as she wanted girls to understand they could aspire to become much more in life and they could do anything. As a childfree woman, to me, she is an icon and inspiration because her message is "Women can do anything."
Warner Bros and Mattel know that their fans are passionate about Barbie and tapping into the nostalgia of this iconic symbol is very smart (and simple) marketing.
Using technology like AI
The Barbie marketing machine has spurred the creation of all sorts of fun AI tools. JibJab, known for its funny dancing videos has created a Barbie girl version. There is a Barbie AI filter going viral on TikTok.
Warner Bros and Photoroom, an AI-based photo app, collaborated to create a Barbie Selfie Generator, which lets users upload a selfie and transform it into a Barbie movie character's poster.
The tool, barbieselfie.ai, was initially released on April 3 and has been used 13 million times since, according to the release. When you upload a photo, Photoroom removes your background and overlays your selfie over the iconic Barbie poster.  (see above)
Let's not forget traditional marketing
And they haven't forgotten traditional marketing either to create massive buzz. Cities featured massive billboards, Barbie bus shelters, life-sized Barbie boxes, and a PR blitz in the media like no other. Everywhere you look you will see pink (which I personally love)!
Do you want Barbie with that?
The Barbie franchise goes beyond movies by leveraging merchandising and additional products to create upsell opportunities. Their ability to think beyond the initial purchase and consider the entire customer journey will add millions of dollars in sales.
If you want some marketing inspiration then Barbiemania is a great place to find some.
After all, pink is the new black.