How much are your unattended social channels costing you in lost business.
One of my biggest frustrations is businesses that have social media channels but aren't actually on social. If you have a Facebook Page or Twitter page, in particular, you HAVE to be actively monitoring them. This is especially important in retail and hospitality businesses.
Why, because it is costing you lost sales!!!
Let me share a real-life example with you. (one of many in my little black book of social fails)
I am in the process of booking a trip to Singapore. Like most people, I am madly researching and looking for the best options for us to give the best experience from our time their.
As part of my due diligence, I emailed 2 different hotels to get some more detail on a couple of options. In both cases, I emailed them and also send a message via Facebook. This was done on a Saturday morning. Both times I said I was booking that day so I needed a response asap in order to make my decision about where we would be staying.
I finally heard back from one of the hotels in the evening (hours after I needed it) and I got a form response that didn't even answer my questions. So, guess what option I wiped from my list straight away?? If you cannot get a basic email right, then I would question what serviced I'd be getting as a guest. Yes, there is a direct correlation in the mind of your potential customer!!
The 2nd hotel which is a boutique hotel was even worse. I got a response back from them on their Facebook page saying our reservations team are available Mon-Fri 8am-6pm and they will come back to you when they can.
Firstly, as a boutique hotel, I would expect a lot more from you. I would expect a higher standard that comes with your higher rates. And knowing you would be losing a booking, don't' send me a form response that does nothing to answer my query.
Both responses are unacceptable on social media or in general customer service. In many of my presentations, I talk about really being on social and it is actually very rare to find. It is these times of issues that cost your business money! Because I booked with neither of them, resulting in a loss of $2,000 in accommodation without any other services we would purchase during our stay.
This is what it costs you: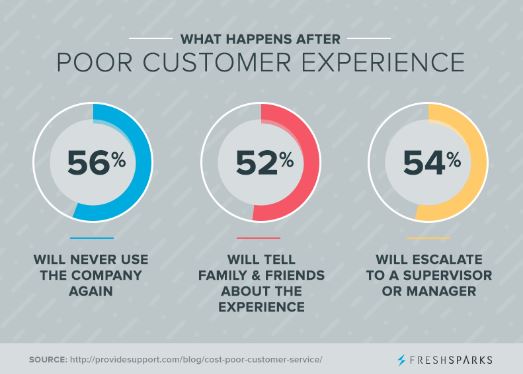 So here are some tips from me if you don't want to lose sales due to a poor level of service on your social media channels:
• Having social media accounts does not mean you are on social – to be on social you need to be actively responding to customers in a timely manner
• Do not send form responses – have staff that listen to the issue / question and send a personalised response to them
• Social media is 24/7 not Monday to Friday from 8am-6pm – you cannot afford to have unmanned social media channels on the weekend and late at night. The cost will offset the additional sales you can make by creating a 'wow' customer service experience
• Don't forget public holidays – so many cafes, restaurants & retail outlets get this one basic thing very wrong. With opening open hours on public holidays irregular and uncertain, make sure you have your Public Holiday hours front and centre on your page. This is the first place I look when looking at options on public holidays and so many businesses has lost me as a customer because of this one simple thing
• Respond on the channel customer enquire on – if I send you a Facebook direct message, reply to me on Facebook. Don't tell me to email someone else or go to another place to get answer. Your customer is choosing their channel of preference – respect that
Social media is a relevant customer service channel for your business and one that can cost you a lot of money in lost sales. I know because I am the customer that buys from your competition if you do not respond to me in a timely manner with the information I have asked for.
Stop thinking about what it costs you to monitor your social media channel effectively and start considering how much it costs you not to.
#customerservice #socialmedia