Why convert total strangers when you have fans already?
Marketing and recruitment over overlapping. Recruitment is all about marketing a company or a person. The best recruiters are adept marketers – that is no coincidence. However what I see constantly is businesses that spend thousands of dollars on marketing but neglect to use the one asset that has the most value for them – their staff!
Why spend marketing dollars trying to convert total strangers who do not know your business when you have already have raving fans of your brand who can become brand ambassadors for you for no cost?
According to Neilsen 91% of people trust recommendations from family & friends compared to 47% who trust ads from companies. This means that referrals and building brand advocates should be your first and primary form of marketing. Digital platforms are a great way of doing this in order to amplify your message to a huge potential audience.
Let's use an example of a recruiter with 20 staff. Some of these staff are active on digital and use social media, write blogs and actively engage in online communities. You will also have some staff who aren't very active at all. As a brand you might have a digital visibility the size of XX (see below diagram). However when you combine the digital visibility and footprint of your 20 staff combined it becomes XXXXXXXXXXX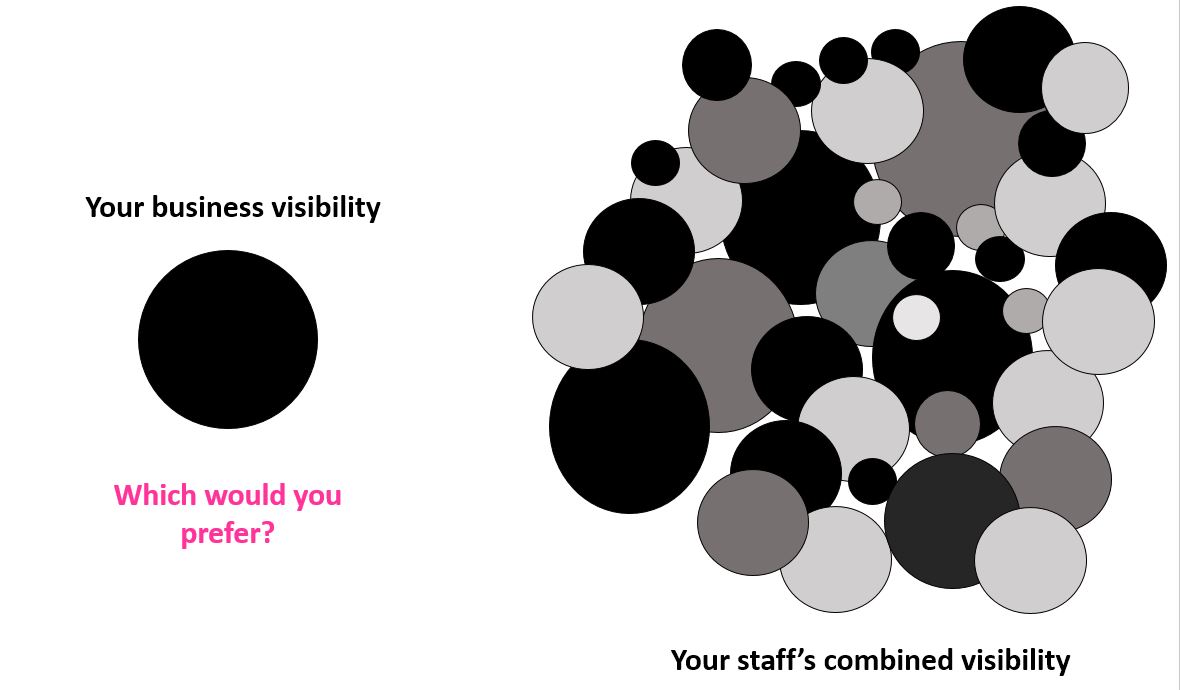 By empowering your team to spread your brand messages share you are building more credible and authentic marketing communication that will get better results and cost you a fraction of your normal market spend to implement.
Marketing, HR & recruitment are all about people! Isn't it time you tapped into people power and got smarter about marketing to clients and candidates rather than just doing what you have always done!