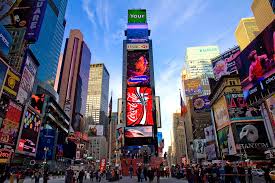 If you've ever been to New York you will understand the craziness of Time Square. The lights and digital screens are almost overwhelming but there is something that tantalises the senses also. Maybe it's the romanticism of seeing it in so many movies we feel that we already know it and have an instant connection. Maybe we are just so overwhelmed as we have nothing of this scale in the land of Oz.
The biggest brands in the world pay big bucks to show their ads in Times Square and no wonder since it gets over 50 million visitors every year.  But at a cost of between $1.1 & $4million dollars and with so much to see at once, I wonder how many of these screens actually get seen and noticed? You need to also take into the thousands of incidental appearances on TV shows and how can we forget the masses that cram in on New Years Eve to watch the ball drop. I'd say brands like Toshiba, TDK, Dunkin doughnuts, Sony and the Dow Jones news ticker, get some awesome exposure as their ad is viewed over and over again whilst the crowds wait for midnight to strike
The owners of 1 Times Square make $23 million a year from the billboards that cover it, making it the most expensive set of billboards in the entire world so I the large infrastructure investment pays off over time.
I love the energy and buzz of Time Square and having been here before I am not interested in spending too much time here as it is a tourist trap and gets ridiculously busy so this time. I am more interested in sharing how digital is being used by brands to connect and engage with their audiences, amongst this sensation overload. More on this in the next blog.
https://www.digitalconversations.com.au/wp-content/uploads/2015/09/timessquare2.jpg
183
275
Tanya Williams
https://www.digitalconversations.com.au/wp-content/uploads/2017/04/1710-Digital-Conversations-logo-FINAL.jpg
Tanya Williams
2015-09-11 12:42:00
2017-01-19 10:49:33
Times Square – big bucks for mega pixels