Companies that are pivoting their offering during Coronavirus
During times when the market dramatically changes, it is important to pivot your product to meet changing demand.
To keep you inspired, I have found a bunch of great real-life examples of companies around the world that have pivoted their offering and it's not only working for them, but they are showing there  communities that they care (which is vital)
Get inspired by these companies:
Burger King  announced on twitter @burgerking a new marketing gimmick which asks students to download their app and solve math, science and literature questions to earn a free Whopper
Netflix Party allows you to watch movies and TV shows with friends, wherever you are and also has group chat so you can react and discuss together.
Zoom  are making a bunch of changes to their product but something fun they are hosting with Teen Vogue on May 16. They are hosting a Virtual Prom which will feature "celebrity cohosts and cameos, DJ sets, customized playlists, interactive choreography, epic thematic backdrops, and more!"
Gherilla Tacos, the Los Angeles-based food truck turned restaurant  has just launched several 'Emergency Kits'. The $149 option contains enough products for 60 tacos, plus a roll of toilet paper.
IntiGo, a  Tunisian taxi startup, has temporarily become a delivery service. For $4/hour, the company will deliver groceries and other products to customers
LVMH – the luxury group, produced hand sanitiser at three off its perfume and cosmetics factories to help hospitals in fighting the coronavirus outbreak in France.
Airbnb announced a new global initiative to help house 100,000 healthcare professionals, relief workers, and first responders around the world during the COVID-19 crisis. Airbnb will waive all fees for stays arranged through this initiative.
Geely has recently launched a service that lets customers browse and buy its cars online and get them delivered to their homes.
Nike has been posting at home workout videos on TikTok, replacing weights with water bottles. Fitness apps, that offer home workout routines, have also reportedly seen an upsurge of downloads.
BrewDog transformed its distillery in a bid to help with the shortage of hand sanitisers, by creating a new one for giveaways to those in need.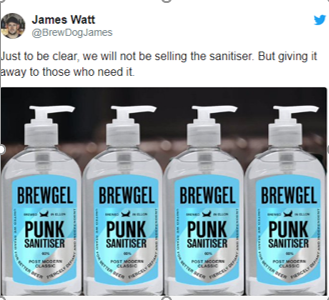 Dyson has partnered with The Technology Partnership (TTP) on a brand-new ventilator design called the CoVent. The design meets clinician specifications for ventilation hardware and the ventilator is a slight modification of Dyson's existing digital motor design and air-purification technology. Dyson is producing an initial 10,000 units for the UK government and plans to donate 5,000 more to the international effort
Rosie On Fire,  an established e-commerce fashion brand has leveraged its Malaysian-based supply-chain to create a new "SuperCleen" brand for Asian corporates wanting protective gear like gloves and disinfectants. It's also launched its own dedicated website to sell lockdown-related packages to UK consumers. The consumer boxes on offer include the "Lockdown Birthday Kit" (containing games, pamper products and home workout gear) and the "Lockdown Date Night Kit" containing couples games, candles, 'Netflix & Chill props' and massage oil…
Pathfindr, a Norwich based startup that does in-depth tracking of factory goods. They recently adapted their asset beacons for human use so staff working together can detect the proximity to each other. The device buzzes when you come within 2 metres of another device to remind wearers to keep their distance
EO Charging, an Ipswich-based startup is best known for designing and manufacturing electric vehicle chargers and software. But with Coronavirus sweeping the UK, the company has switched to creating online lessons for children on sustainability and energy in partnership with three others.
Gophr  is a delivery network that works with SMEs and apps like Deliveroo or Airbnb — transporting goods, scooters and large food orders. In the wake of Covid however, that business-to-business demand has shrunk, so the company has partially pivoted to delivering pharma, bio-samples and test kits for labs, pharmacies and medical companies, using their convoy of delivery workers to getting essential goods to people.
Unexpected times call for creative thinking in order to not just survive but thrive.It's time for you to pivot and use this time to shine.