Automatically schedule your blogs with a click of a button
Everyone knows I love my digital tools – anything that saves me time and makes life easier is a good thing.
I recently discovered MissingLett_r. If you have a blog it creates a unique social marketing campaign, spread out over a year, minutes after you publish your next blog post.
To use it you just register your blog's RSS feed and you're done! When you publish a new article they automatically notify you with a personalised social marketing campaign for it. All you have to do is review and then approve it! Yes it really is that easy. Saves you have to then go and create & schedule content for your social media channels.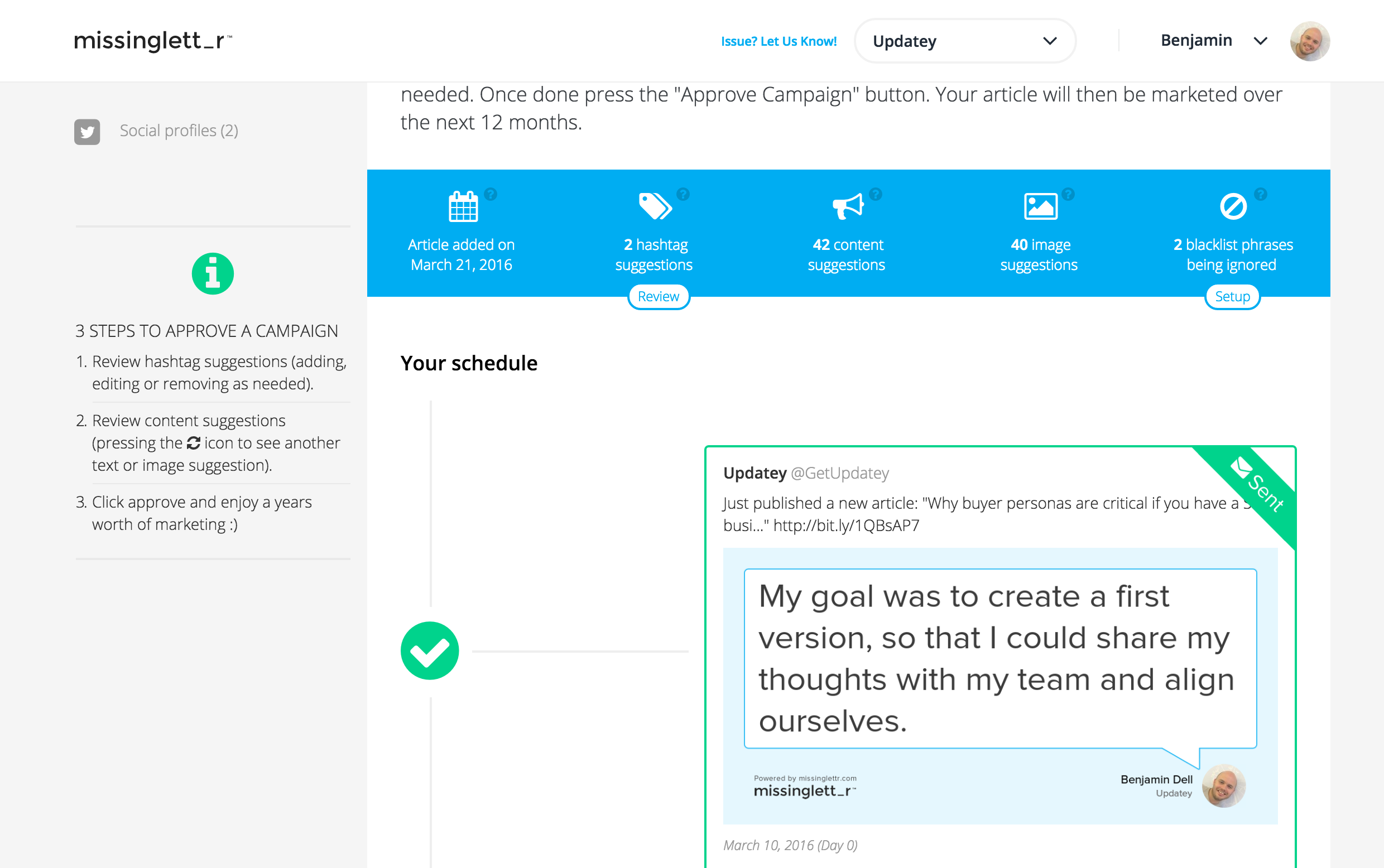 Always a believer if you find a great product, then share it, I spoke to CEO and founder of Missinglett_r, Benjamin Dell and asked him 3 quick questions about the new service:
Where did the idea come from?
I also run a web development agency. Through that, we started noticing a trend amongst our clients that blogged. In essence, they weren't really doing it very effectively. Some would share their new blog posts on Twitter and other social networks once (typically the day it was published), very few would remember to share it again and almost none would have a systematic plan in place to share the article over a sustained period of time. We knew there had to be a better way. Missinglettr was born at that point.
What types of businesses are using it?
We're finding all sorts of businesses using missinglettr. From the individual at home that's focused on building their personal brand, through to serious companies looking to extend their reach. We also work with social marketing agencies who are looking for new ways to add value to their own customers.
What's next for Missinglett_r – world domination?
Always! But whilst we're biding our time (and no doubt, stroking a cat with an evil glint in our eye), we're super focused on a couple of key areas. In the short term, you can expect to see additional social networks added, as well as improved scheduling flexibility and ways in which you can better brand the content that we create for you.
This is a great tool for building your automatically building your content calender so you have a pipeline of great content being shared. They have a free plan to connect one social channel or pay $10 a month and join several. Money well spent I say.
Find it here: https://missinglettr.com/