HOW TO USE FACEBOOK ADS TO REACH PASSIVE CANDIDATES
Facebook is now very much part of the business marketing world and Facebook ads can be a very effective tool in reaching passive audiences and getting in front of niche or hard to find candidates. It is also a fraction of the cost of job boards and allows you to reach specific candidate types in a social way.
KEY LEARNINGS:
Why use Facebook ads for recruiting
How to use Facebook ads to reach more candidates
How Facebook ads can replace job boards for a fraction of the cost
How to set up your Facebook ad – step by step guide
Why using the right imagery is the secret ingredient
How to use the right content & imagery to talk to your ideal candidates
Metrics to measure & tools to use to help you market on Facebook
INVEST IN YOU: $149 + gst
WHO IS IT FOR: Recruiters, Recruitment Marketers, Business owners of boutique agencies, Internal recruiters
DIGITAL SKILLS FOR RECRUITERS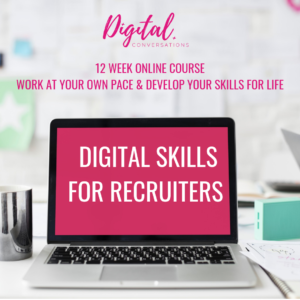 This is a 12-week online course for individual recruiters to learn how to use digital marketing to increase personal brand visibility, improve candidate communication and to use digital marketing to build relationships and communities to drive desk growth.
OUTCOMES
How to properly optimise your social media profiles
How to build your personal brand & profile
Learn what digital tools to use to save time
Know what Social Media channels you should be using
Best practice for candidate interaction online
How to use social for research and to build relationships with candidates
How to use video to increase your brand profile
Moving posts jobs & Blogs on your job ads
Why you need to a human connection to your recruiter messages
Intro to Social Recruiting
Intro to using Facebook ads to reach passive candidate

INVEST IN YOUR FUTURE: $39 per week for 12 weeks
FIND YOUR CONFIDENCE ON CAMERA
This course is for women who want to feel confident creating video content. It's time to stop procrastinating and using a bunch of excuses and this mini-course is going to help you learn how to create video's that you want to share with the world.
Modules include: planning your video content, tools & equipment to use, Lighting & sounds tips, using a teleprompter, why practice is key, authenticity & personality to name a few.
With video expected to be 80% of all content online by the end of this year (according to Google) you cannot afford to not invest in video marketing.
Invest in You: $29