Are you struggling to balance keeping business afloat and looking at ways to generate new business over the next few months? Plus, are you still working from home and juggling family responsibilities at the same time (which means your time is super valuable)?
How would you like to fast track your marketing and have a specialist set up marketing foundations for you in 30 days? This means you can start to generate inquiries whilst are you also building your brand visibility.
I have a fastrack plan that makes it possible!

Instead of spending time trying to figure out all the marketing stuff, that's probably not your area of expertise,wouldn't you rather be spending the time you have with your family, playing golf or just chilling out in front of Netflix?
Today, we have all seen the need & importance of digital channels and the ability to use online marketing to connect & communicate . Your ideal clients are online right now but do they know you even exist?




You are a micro or small business with less than 20 staff
Cashflow is limited so you are careful how you allocate it
You are working in your business and have little time to work on marketing.
You don't have time to figure it out but you need to generate new business
Oh, and you probably only turn ON your marketing when you need to generate some new business


LET ME INTRODUCE A NEW SOLUTION FOR YOU: MARKETING FOUNDATIONS IN 30 DAYS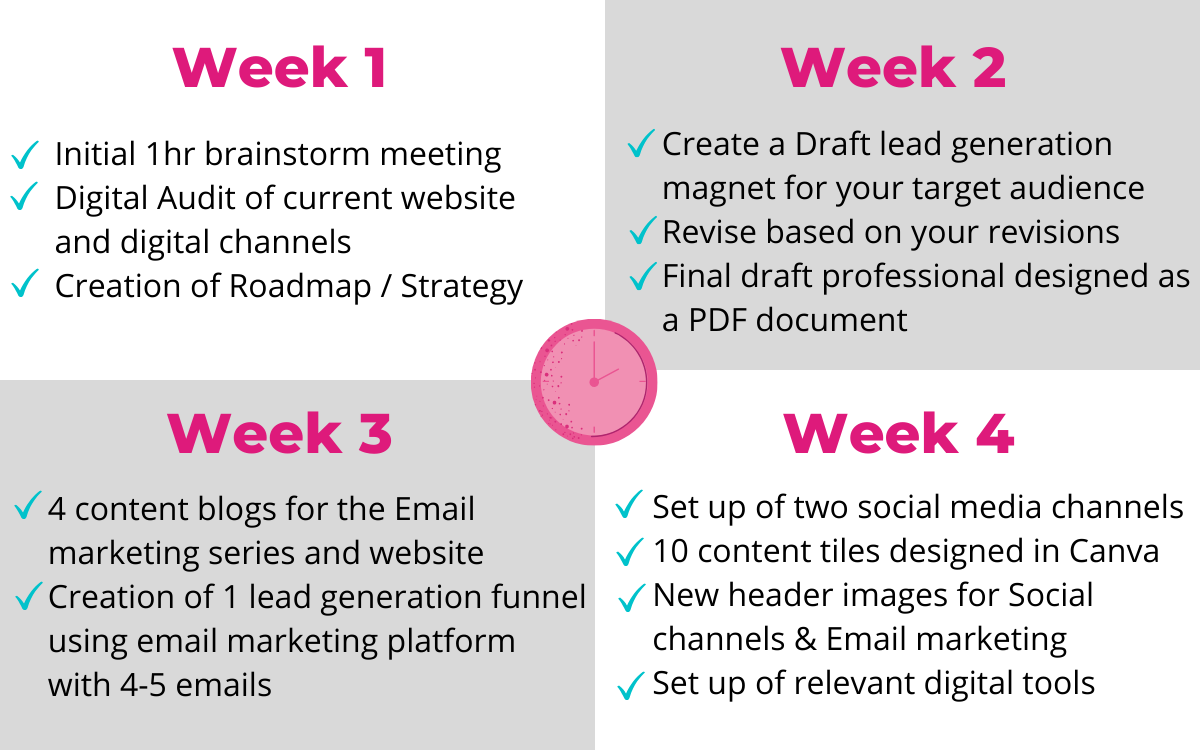 Proacrastination gets you nowhere. And right now you need to people to find your business and hire you!  With 'Marketing Foundations in 30 Days' you will get these outcomes:



I am offering you a simple payment plan to get your marketing set up and generating leads, enabling you to easily cover the monthly payments.
Imagine how long it would take for you to set up this yourself? Have a specialist set it up in a fraction of the time it would take you, without the frustration.
Stop procrastinating!
THIS IS AVAILABLE FOR A LIMITED TIME ONLY!!
** Some conditions apply 







I am no tech talking, tradigital specialist with over 20 years experience in traditional marketing, sales, media & digital working with companies of various sizes to increase visibility, leads and sales.
I work with predominantly professional services business to STRATEGISE | SIMPLIFY | EXECUTE | TEACH marketing that makes your business more visible to your ideal clients.
I follow my Simple Marketing Blueprint (which works) and allows you to focus on what you love doing. Everything I do is focused on you & your clients.
Want all that? Book a Digital Coffee Call where we can chat about your current issues and look at some solutions you can put in place.