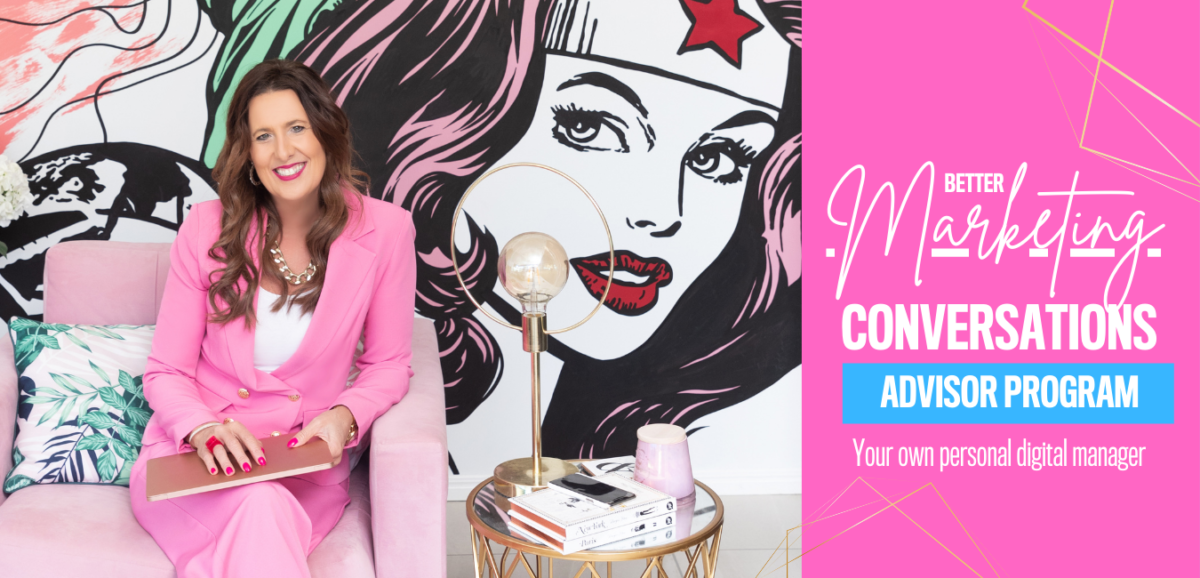 Here is a chance to have your own personal marketing advisor working with you.
If you tick some of these boxes below then keep reading …
Unsure of where to start when it comes to marketing

Don't have the budget to work with an agency or have a full-time person manage it

Your marketing tasks keep being pushed back until you have time (which you never have)

You have no idea what you are doing?

You'd like a specialist to be a guide and sounding board for you

Need a flexible approach that won't break the bank

Would love to know some insider secrets to help you get more done faster

Want to work with someone that has the experience and has been where you are

This program is all about helping you to get started and providing personalised advice and feedback with the backing of an online portal & educational resources to help you do the work. I work with you to get CLARITY, CONNECT with the right audiences, figure out the right CONVERSATIONS and CONVERT them using the right type of content.





Get a personal sounding board for your marketing each month

Discover why your website isn't capturing leads from your visitors

Where you have untapped opportunities on your website and other digital channels

Learn how all the pieces of your marketing fit together

Learn how to use the right conversations to attract the right clients for you

Get feedback and advice on how to improve to get better results

Dive deeper into your target and learn how to use this information for more effective marketing to them

Understand how to write more effective email marketing campaigns – everything from planning, segmenting and how to automate them

Learn Best Practice for Social media – types of posts to use, when to post, how to create images, what insights to review to grow the audience

Content creation hacks – tools and ways to save time

Where to source free images (legally)

Best ways to plan, create and schedule your social media

Free and low-cost tools to use (this will save you a fortune)

How to review results and  insights to improve results

Pay for 6, get 12 months access to the online program IF YOU JOIN BEFORE the official launch date.
Even though you are paying for 6 months' access to me, as your own personal Marketing Advisor, I am giving you access to the online portal for 12 months. This means you can continue to use it as a resource to continue to develop your marketing. Just I want to make sure you have additional help to get the results you want. BONUS!
This investment is Ex Gst and for a 6 month period.




Get advice and guidance from a Certified Practicing Marketing  consultant with 25 years marketing experience in this new 6 month program.
I have invested years in learning and refining my marketing skills so you don't have to. I am continually learning the latest updates (and we know how fast digital changes) so I am able to share best practice tactics with the clients I work with.
Over my 25 years in the marketing space, not only do I have more wrinkles than I used to, I have worked with micro & small businesses, start-ups, corporates, agencies, publishers, tech companies, and boutique firms.
I simplify the marketing conversation for you and ditch the tech talk  & industry lingo so you can understand what you need to do in practical terms.  I don't do fluff and I won't promise you that you will get rich in 30 days so you can retire to a tropical island. I hate all that fake crap.
Working with me you will honest, practical advice that you then need to act on. I will keep you accountable and show you tips & tricks to help you work smarter.
I'd love the opportunity to work with you in this program.
The program officially starts on 8th November 2021 
Limited to 20 people.
Register your interest by entering your details below.

I was recommended to Tanya through a friend after she assisted his staff with social media training. Tanya came in speak to my staff about LinkedIn and Instagram. She was engaging and went beyond the basics to really show each team member regardless of their precious level of experience. Each walked away knowing how to use each of these social media platforms for both our company and their professional branding. 
My team members have already implemented what they have learnt which is already paying dividends in getting our company image out there. 
Tanya is able to help the digital marketing "dummies" like me, no longer avoid taking advantage of this platform to promote individual or business brand. She makes what seems complex, simple which has allowed me to implement important strategies for myself and clients. Her passion is infectious. She is generous with time and knowledge and recommend her without a question!
Tanya Williams is an amazing woman with energy to burn ! Her marketing knowledge and "Know How" was invaluable to us when planning our marketing strategies for our business in 2018 and we engaged her again in 2019 to support other parts of our business. She is reliable and the thing I like about Tanya is her directness- there is no mucking about- Not your typical business consultant – On Point and on Message every time and incredible value for money!
Tanya is a passionate and knowledgeable consultant who assisted me with my digital marketing planning. The breadth of her knowledge and experience ensures a planning session with her covers all bases and she has the ability to help you workshop creative ideas to compliment your strategy. Tanya is generous with her time and energy and I love the abundance of resources she is creating for current and future clients. If you want someone to design your digital marketing strategy or fine tune some plan's she is your girl!!
Tanya Williams has her finger on the pulse of digital marketing. Working with Tanya is both a pleasure and and insightful, she knows her stuff! Tanya is engaging and passionate about her craft and brings a plethora of insights and expertise to this space. we are currently benefiting greatly from Tanya's expertise. I also have the privilege of being involved in with Tanya as part of the secret women's network (empowered by businessDEPOT) and she is a delight and an advocate for both businessDEPOT and the women within the network.
At the intersection where Recruitment meets Digital & Social media, Tanya Williams really is the Chief of Everything! We worked on some co-branded events and I found her to be not only a real leader in this space but a genuine & pleasant person to work with. If I was a candidate or recruitment business looking to sharpen up on all things digital, I would highly recommend talking to Tanya.
Tanya was great and I recommend her to any business who is considering further developing and implementing a social media strategy. She clearly knows and is passionate about the subject matter and getting a business to think about how to better use social media, what the right channels are for the particular business and how to build an effective social media presence. She has really got us thinking about new ways to implement our social media strategy.
Tanya recently supported our Business in the development of a series of Tech Savvy workshops.  Her energy and ability to deliver complex content in a fun and easy to understand way was very well received by both our internal teams and customers
Tanya did a wonderful animated presentation to our group, which gave us an insight into the sometimes confusing world of social media. Tanya was able to demystify, simply and the topic of social media and need for it in business. Our group was a very diverse group and yet the presentation did a wonderful job in presenting to all levels of technical expertise without losing impact or interest.
Tanya not only had great energy, she was effective in "de-misting" the fog of online & social contact options for a group of people who see the benefits, but are essentially business managers. Thanks and well done.
Tanya has presented to our client base on two separate occasions. The content and relevance to business owners /managers was excellent and helped business owners navigate the challenges and opportunities that digital present.
After running this campaign for several years we decided to engage more people and Tanya was recommended to us to help us implement a strategy to help us reach our goals to increase engagement in Qld. Our data showed that we had a 400% increase on our company Facebook page as well as setting up a good foundation for our Twitter channel. We found by outsourcing our digital marketing needs it gave us the time to concentrate on what we do best. Tanya made our life so much easier and we look forward to working on our next project with her in the coming weeks.
Tanya Williams was impressive from our very first meeting regarding our company's website redevelopment and digital strategy. She met every deadline and her attention to detail was faultless. Tanya's diligence and professionalism won her our business. Looking for first class digital strategy contact Tanya
Tanya is a real people person. Tanya possesses amazing people skills and can bring a room together through great insightful conversation. Tanya is an esteemed business professional who I recommend highly
Working with Tanya and her team, I have been overwhelmingly happy with the service, the concepts and the professionalism. I would be only too happy to recommend Tanya to my clients.
I have always found Tanya, in all my dealings with her to be a highly experienced marketing professional who has wide experience and a valuable range of skills. She has worked with customers in various sectors and on numerous projects developing highly effective marketing strategies, and implementing the complete creative and production process, across all media. Always within budget and difficult time constraints