This might sound like you…..
✔️ You have a LinkedIn account but don't use it to it's full potential
✔️ You are pretty well connected but don't leverage those connections
✔️ You know you can use it more effectively but not sure what to do
✔️ Your job involves sales and marketing and you need to find ways to get your content in front of of more of your target market
This is what typically happens. Most people set up a LinkedIn account, half complete their profile, then update it when they change jobs OR they are pretty active users but are still not using it to it's full potential. Are you guilty of that?
And even if you are on LinkedIn you are probably only posting content occasionally which doesn't means a lot of connections probably don't see it.

It is an on demand online course that will unleash some of the lessor known ways of leveraging your Linkedin connections. Many of the most savvy users of LinkedIn that I speak to, are not aware of how they can leverage their connections off LinkedIn (legally)
Think about why you are on Linkedin. It is for 1 of 3 reasons:
✔️ CONNECT
✔️ BE SEEN
✔️ DO BUSINESS
Wouldn't you like to get seen by more people, so you can build quality relationships and do more business?


This is all about you being able to tap into a channel with over 5 million users in Australia alone.  If you are going to be on LinkedIn, you might as well do it right! This is what you are going to learn (in your own time)
✔️ Step by step process to market to your LinkedIn connections on Facebook (so they see your content)
✔️ How to repurpose content on LinkedIn & across other channels
✔️ Promoting articles off LinkedIn to increase views
✔️ How to increase engagement using conversation & common courtesy
✔️ Why thinking beyond selling will generate more quality leads
✔️ Why you should consider content sharing hubs
✔️ Leveraging your profile views
✔️ Leveraging social proof aka: recommendations
✔️ Tools to help you automate (the time poor will love these)







What is it worth to you, if you could use LinkedIn more effectively to generate leads and increase your profile?

Would you rather borrow the concept instead of making all the costly mistakes yourself?
PLUS I know you are time poor so I have created this in a way that you can access anytime you need to, even while you are wearing your PJ's. It shares step by step the tactics, tools, and steps you need to do this yourself, broken into short modules. NB: I spend hours every week learning this stuff so I can pass it onto you. You are getting massive value!
This is an investment in you and your business. It will allow you to work smarter and reach more potential clients in 2021.

LINKEDIN LEVERAGE launches in 2021. The  investment will  increase on 1st January (that's a new years promise I will keep)

I am no tech talking, tradigital specialist with over 20 years experience in traditional marketing, sales, media & digital working with companies of various sizes to increase visibility, leads and sales.
I spend hours each week learning the latest digital tools, tactics and stratgies that I share with my clients.
Why? Because I am believer in always learning – if you don't learn you don't grow, as a person or as a businness. I have years of marketing IP stored in this little brain of mine and the workshops and training I do are a chance for you to tap into that knowledge.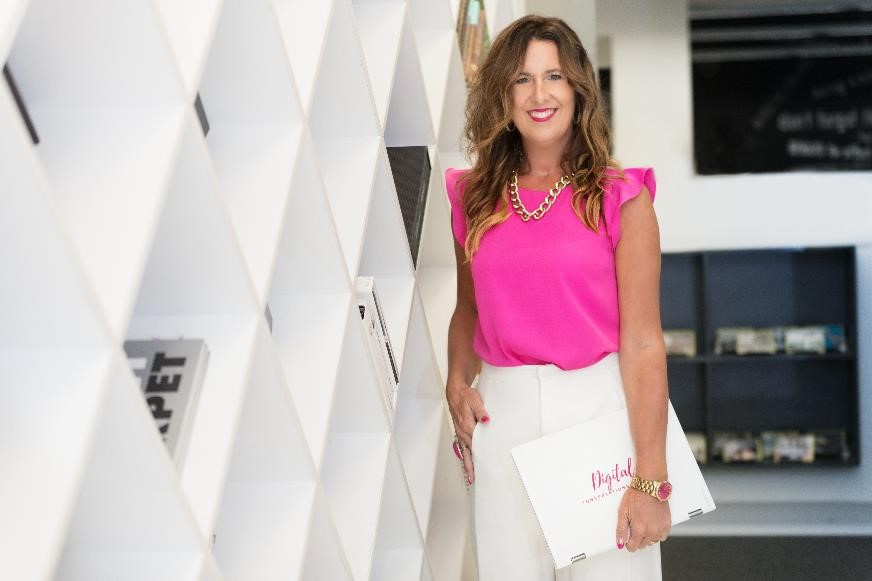 " Tanya, I just wanted to thank you for taking for the time out this morning to teach us some your knowledge on digital strategies. We walked away feeling very excited to start implementing what we learnt and start passing on the knowledge to our teams!  Your workshop was great!" Nicharla Malouf – PKl Recruitment
" Tanya, your workshop was full of practical information, that I have implemented in my business, your presentation was fun and interactive, I really enjoyed the day and hope to see you for another workshop soon" Bronwyn Toft – Wanora on the Brisbane River
"The feedback on Tanya's workshops has always been extremely positive with our attendees commenting on her passion, energy and ability to deliver complex topics in a way that is relatable to their business. her Knowledge on the digital marketing space is obvious as is her drive to deliver high quality content and practical tools & tactics that our members find very valuable to grow their business. She is able to demystify the often confusing world of digital and can deliver complex content in a fun and easy to understand is very well received." Jodie Radley, Learning Centre CPD
" Tanya is a wealth of knowledge in the digital space, her passion for digital is clear and her presenting style is energetic and engaging. Plenty of practical tips and ideas to improve your digital strategy!" Ben Watts, Watts Next 
" Tanya's workshop on was informative, inspiring and enjoyable. I have lots of fantastic new ideas to add to my recruitment toolbox! Thank you and looking forward to next time." Nicola Steel, NatRec 
"Tanya was great and I recommend her to any business who is considering further developing and implementing their social media strategy. She clearly knows and is passionate about the subject matter and getting businesses to think about how to better use social media to build their brand and business. She has really got us thinking about new ways to implement our social media strategy." Peter Liaw, Peppercorn Consulting